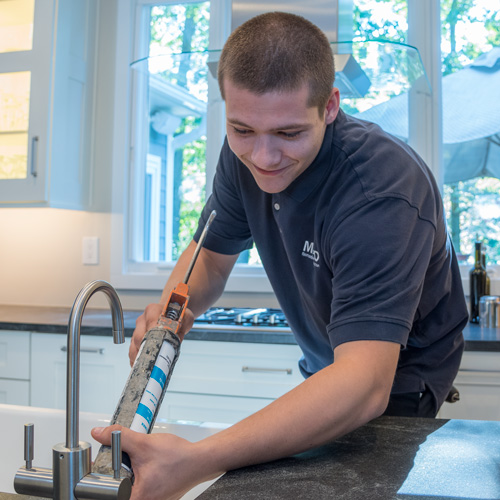 Whether it's a dripping faucet or a complete overhaul of your plumbing system, MACCO has the knowledge, experience and resources to get your plumbing job done. With 80+ combined years of remodeling experience, we've seen and done it all! We'll take care of your plumbing problem or help you realize the upgrade or change you've been wanting to make.
We work closely with you to ensure your plumbing system repair or upgrade thoughts, desires and requirements are thoroughly incorporated into our planning. We then provide professional, focused solutions to address your unique unique remodeling needs, including specific designs to comprehensively and efficiently implement them.
We emphasize responsive customer service, quality and innovation…..and we pride ourselves on being Prompt, Prepared and Professional.
Installation, Repair or Replacement Plumbing Services we Offer:
Reconfiguration of bathroom, kitchen and laundry room plumbing
Drain cleaning, with video inspection
Natural and propane gas piping and appliance installation
Repairs or complete replacement of hot, cold and waste plumbing:
Faucets, disposals, toilets and polybutylene
Sump pumps and backup battery sump pumps
Water filters and conditioners
Hot water heater – tank and tankless
Gas fireplaces
Exterior drains
Water and sewer mains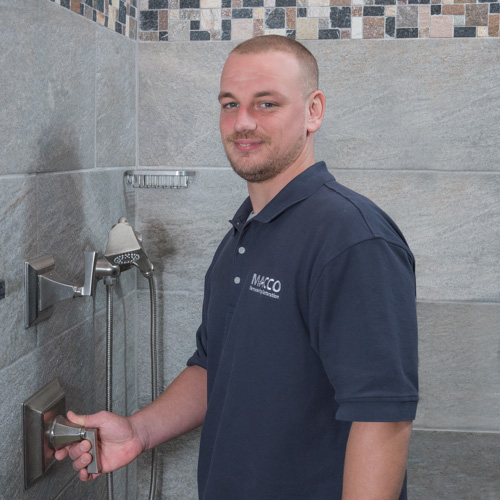 I used Macco when my mother had a pipe burst in the winter. They worked with the insurance company who wanted to only repair a small portion of the wood floors. Due to the discoloration of the new section and the old sections, they were able to get the whole middle floor replaced from the insurance company. Highly recommend Macco.
I.C. - Sterling, VA
Great company! My sister had them do a lot of renovations at her house, so when I had a leak at my house and needed inside and outside work she suggested them. Mike, the owner, came out and assessed the damage inside and out, explained everything and answered all my questions before starting the work. They fixed the leak outside, replaced the insulation and drywall, painted, and took care of a few unexpected issues that came up along the way. Mark and his crew did a great job, and they completed the work in less time than expected. I will definitely be using them again when I decide to renovate the kitchen!
Tina - Woodbridge, VA